Visitors Online: 152

Search Products
Enter Keyword and click Go to Search Products

Most Auction Templates are $7.95 and below!!
Designer Add ons
are now offered for most Auction Template Designs & Ebay Store Designs!!
New Etsy Shop Sets are also available!

Welcome to my small but humble corner here on the web!!

Are you looking for a new auction template? Feel free to browse through the categories. You will find an assortment of auction templates....from Prim n' Folk to Country....Raggedy Annie templates, Gingerbreads....Vintage templates....Seasonal....you may even find a handmade doll or two!


If you don't see anything you like now, please check back often. I will be adding Custom Banners, OOAK Ebay storefronts, Ebay Store Banners, Etsy toppers, Oztion banners and logos, Custom Vshop packages, maybe a even a few Websets will be thrown in the mix.


All my templates are custom made by me using graphics purchased from some of my favorite designers, of which i hold commercial licenses with.

If you would like to be notified when i add new items, please feel free to join my Mailing List.

If you have some time...please sign my Guest Book so i know that you stopped by. Any comments or questions would be greatly appreciated!

Thank you so much and enjoy your visit!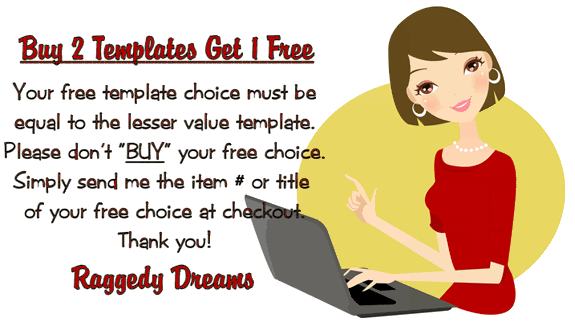 All Rights Reserved © 2005 Raggedy Dreams
Powered by DIYeStores.com - a DIY Website Builder
Total Website Visits: 33438
Shopping Cart
Cart Value: $0.00
Cart Items: 0
View Cart
Featured Products
Complete Etsy Shop Set U-PICK Design
$15.00
Basic Etsy Shop Set U-PICK Design
$10.00
4 Seasons Boutique Too - Complete Ebay Store Design
$79.95
Complete Etsy Shop Set U-PICK Design
$15.00
Basic Etsy Shop Set U-PICK Design
$10.00